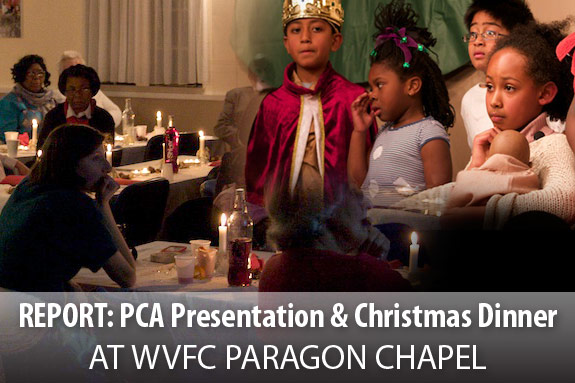 Hello all! Sister Ann here, I hope like us, you had a very happy Christmas time!
On Saturday 11th December, Paragon Christian Academy gave their Christmas Presentation at Paragon Chapel, Hackney. In spite of wintry conditions afoot, the church was packed with School Staff, church members and many parents and of course, the school children.
The children, from Pre-school up to Seniors, excelled themselves and the play "Papa Panov" was a huge success. Such occasions do much to foster good Parent/Teacher/Pupil relationships and the whole atmosphere was warm and welcoming.
The following Saturday, the 18th, was the date of our annual Church Christmas Dinner, for which there had been much planning and preparation, and the candlelit church hall was very festive indeed! that very morning we had a two hour snow storm, but in spite of those conditions, the tables were well filled with folk and the cooks has prepared a hot buffet meal which we all enjoyed. Once again it was an evening of good fellowship and a chance to meet folk in very relaxed surroundings.
Signing off for now,
Sister Ann